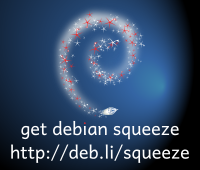 Debian Squeeze Release Parties
DebianSqueeze is not released yet but it is scheduled to be released the weekend of the 5th-6th of February. So it is a good time to plan squeeze release party in your country.
Feel free to add your squeeze release party to this list to let others know about your local ReleaseParty to celebrate the event.
Alphabetic list of parties, by country and city:
Belarus: Minsk
When: Not decided yet (approx. February 05, 2011 15:00 EET)

Where: Not decided yet (approx. Minsk, m. Uruch'e, pr-t Nezavisimosti 186, TerraPizza)

What: Drink beer and talk

Bring: Money, laptops and good mood

More info: <events AT SPAMFREE debian DASH by DOT org>
Template Squeeze Release Party
Country: City
When: date and time

Where: good place to party in some city

What: description of the planned event

Bring: anything people should bring, like food, drink, costumes, GPG fingerprints, etc

More info: link to the page where people can get more information and/or discuss event
---