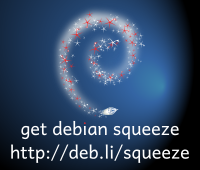 Debian Squeeze Release Parties
Yes, DebianSqueeze has been released!
Feel free to add your squeeze release party to this list to let others know about your local ReleaseParty to celebrate the event.
Alphabetic list of parties, by country and city:
Add your city
Enter city name (in format Country/City) in text box below and press the button:
Debian Party Line
There will also be a distributed release celebration on the Debian Party Line, a mumble-based voice chat.
---