Information to distribute to each attendee.
Minisite URL
Emergency phone number (112 + some organizer)
Opening hours
Address of the venue.
Address of the night events.
Note about anti-harrassment.
Note about picture taking.
Note about reimbursement.
Phrases in català
Something else?
Welcome to the Barcelona MiniDebConf!
Important information
| | |
| --- | --- |
| Website URL | |
| Emergency ph# | 112, FIXME: add orga number |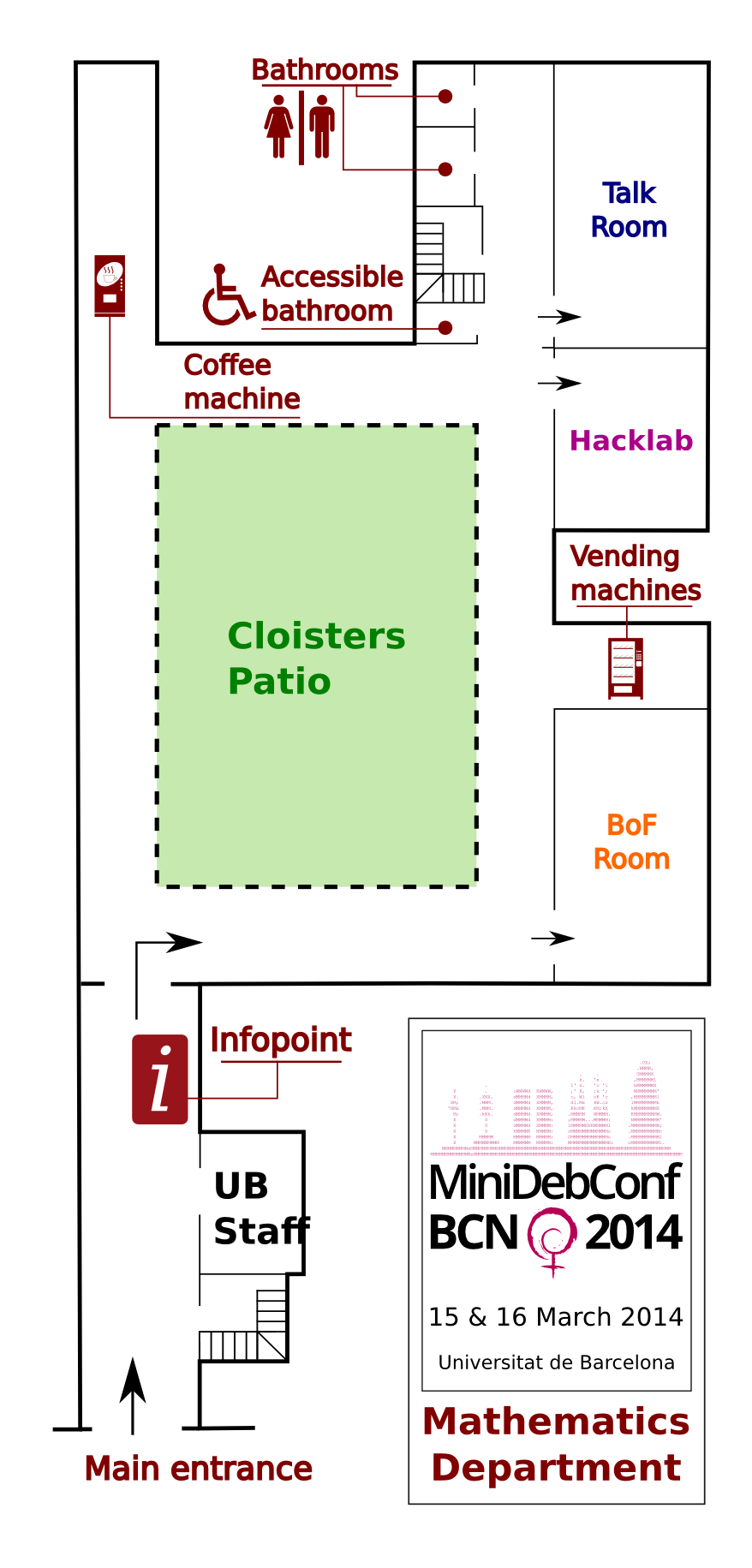 The venue is located at Gran Via de les Corts Catalanes, 585. The metro lines L1 and L2, as well as the buses number 9, 14, 50, 54, 56, 58, 59 and 66, stop just across the street.
The venue will be open to attendees from 9 to 19 both Saturday and Sunday. The registration desk will open at 9.
Things to consider
Photography
Some people do not want their picture taken, please ask if it is OK to photograph somebody before doing so.
Standards of respect
DebConf is committed to a safe environment for all participants. All attendees are expected to treat all people and facilities with respect and help create a welcoming environment. If you notice behavior that fails to meet this standard, please speak up and help keep DebConf as respectful as we expect it to be.
If you are harassed and requests to stop are not successful, or notice a disrespectful environment, the organizers want to help. Please contact FIXME:: orga member(s). We will treat your request with dignity and confidentiality, investigate, and take whatever actions appropriate. We can provide information on security, emergency services, transportation, alternative accommodations, or whatever else may be necessary. If mediation is not successful, DebConf reserves the right to to take action against those who do not cease unacceptable behavior.
Reimbursements
If you have been granted travel or accommodation sponsorship, please contact the front-desk to get more information.
Helpful phrases in Catalan
| | |
| --- | --- |
| Hola! | Hi! |
| Adéu! | Bye! |
| Bon dia! | Good morning! |
| Bona nit! | Good night! |
| Gràcies | Thanks |
| Una cervesa, si us plau | A beer, please |
| Anar al gra | Get to the point |
| Salut i força al canut! (complete one: Salut i força al canut i que l'any que ve sigui més gros i més pelut) | Cheers and money! (free translation, ask locals to try to translate it ;-)) |